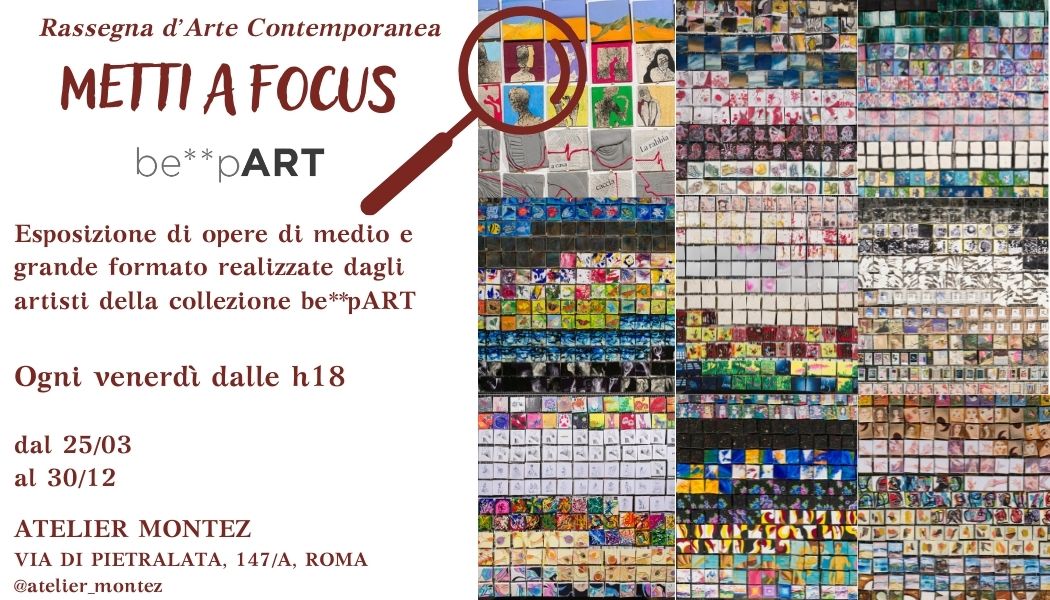 Focus on is a contemporary art review realised within the framework of the Be**pART PROJECT.
The review is curated by Gio Montez
Main sponsor: ARTup
"an exhibition within the exhibition"
Every Friday from 6 p.m, Atelier Montez focus on an artist of the Be**pART collection, exhibiting a selection of artworks of medium and large format in relation to the Be**pART exhibition. 
Focus on is a weekly blitz-vernissage, in which: 
The artist's curator presents the artist in a tweet
Curator Gio Montez estimate the artist's Coefficient using the innovative experimental software artcoefficient (v.1.2) 
the artist is available for an artist talk
Possibility to buy the artist's works in advance during the event
Creation of a temporary art-shop which pops-up for 5 days starting from the Monday following the event
The aim of the "focus on" review is to define an innovative objective method for attributing an Art Coefficient to the contemporary artists and a relative value to their artworks. The discourse on method is lead by processing the artist's experience through the Art Coefficient engineered software (v.1.2.) which is measuring the notoriety of an artist's signature and its capacity of conversion into economical value.
The review "focus on" is a scientific and artistic experimental research. During these important events the ARTup Community meets in the Atelier Montez to discuss, argue and define the strategies for sharing this terrific innovation. At the presence of the public, the curator Gio Montez and the participating artists will continue testing and calibrating together the artificial intelligence algorithm called BART – the first Digital Contemporary Art Advisor ever! 
All the focus-on-events, all the insights covered during the review and all the results of the scientific and artistic experimental research will be published in the Be**pART Catalogue by the end of year 2022.
See all focus and artists