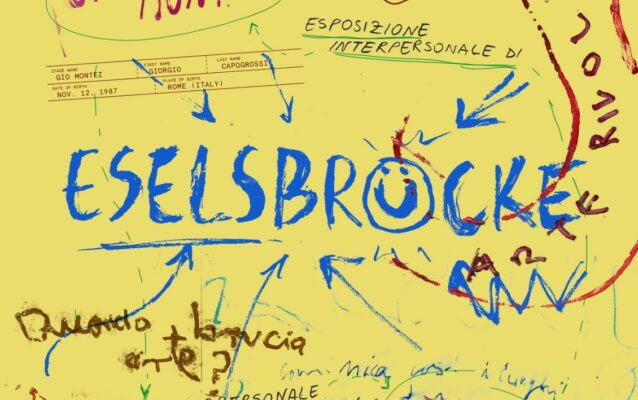 Eselsbrücke
The interpersonal exhibition of Gio Montez and Jos Diegel, between donkeys, performances and tokens
Relational aesthetics, artists' expressive abstinence, technological implementation and practical exercises for the expansion of the collective cerebral universe are the key words chosen by the artists, ironically shedding light on the complex issue of authorship in the industrial revolution Blockchain and Artificial Intelligence that we live in our days
insideart - festival of the german language
inside the exhibition by gio montez & jos diegel
At the end of the Festival, on 8 October, the Goethe Institut will also present Eselsbrücke, the exhibition by Gio Montez and Jos Diegel, thus officially inaugurating The Week of the German Language in Rome.
Focused on intercultural dialogue and communication possibilities of the real, the appointment – in collaboration with the Cultural Office Embassy Germany and the Goethe Institut Rom and with ARTup and ARTCoefficient main sponsor – was deliberately created as an exhibition of transition and break, both in content and structure: The inaugural performance – presented by Atelier Montez and entitled practical exercises for the expansion of the collective cerebral universe – will take place on Saturday, October 8 at the Goethe Institut, while the vernissage will be held on October 10 at Palazzo Velli Expo.
ARTWORKS IN THE EXHIBITION
The works, about 20 per artist, are the result of an artistic dialogue, some of which were made during the artistic residency of the Pietralarte festival. Relational aesthetics, artists' expressive abstinence, technological implementation and practical exercises for the expansion of the collective cerebral universe are the key words chosen by the artists, who prefer the "middle place" of authorship, ironically shedding light on today's complex "dig-industrial" revolution, between Blockchain and Artificial Intelligence. The exhibition will also include the works "Basquiat kidz", created by passersby during the Roman Summer 2018 and signed by Gio Montez.
The works will be available online from 18.10.22 at the link: https://montez.it/eselsbrücke .